From
AtariAge
:
We've returned from the
Portland Retro Gaming Expo
, where we released four new homebrew games (three for the 2600 and one for the 7800). We've now added these new games to the
AtariAge Store
! Each game is complete with a high-quality box, manual and label. Details below: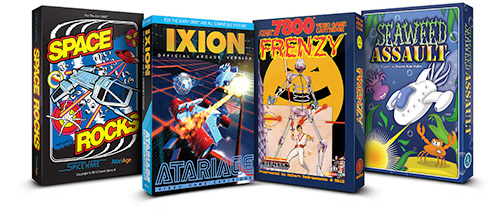 Space Rocks (Atari 2600) - A mix between Asteroids and Asteroids Deluxe, Space Rocks brings the arcade action home in a way never before seen on the 2600! Created by experienced Atari 2600 developer Darrell Spice, Jr., this is the version of Asteroids Atari could only dream of producing back in the day!


Seaweed Assault (Atari 2600) - In this original homebrew game by Duane Alan Hahn, you must wield your Manatee submarine against highly aggressive seaweed before it clogs up your sector. Don't let the seaweed strangle your civilization to extinction!


IXION (Atari 2600) - This previously unreleased prototype (itself based on an obscure arcade game) finally sees the light of day in cartridge form! We've even created a more challenging version of the game titled IXION ULTRA with all new levels, with both versions available on the same cartridge.


You can find more detailed information about each of these new games and other recent releases in the
AtariAge Store
.